Atomicals™ are at war to build the most massive MolecuRing™ and gain ultimate valence control!  Strategy is the key element in this chemistry battle. Create your attack plan, partner your Chemicals, master your Labs and Energies, and destroy your opponent's MolecuRing while defending your own!
CAUTION! You may accidentally learn about element groups, chemical bonds, oxidation states, chemical reactions, states of matter, energy transfer, scientific theories, and material properties.
MolecuWars™ is a trading card game, much like Pokémon®, Magic the Gathering® or Yu-Gi-Oh!®.  This card battle game is based on the elements of the periodic table and science facts related to chemistry and physics.  The goal of this educational game is to enjoy strategic game play that is as exciting as other popular trading card games while indirectly learning science facts from chemistry and physics. When playing MolecuWars trading card game, you must build a MolecuRing™ with the greatest atomic mass while attacking your opponent to destroy his/her MolecuRing.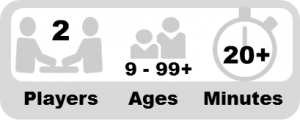 Educational Disclaimer: This game is based on the complex studies of chemistry, physics, and materials science.  Although the facts on every card hold true to science, the gameplay is designed for competitive strategy and not chemical experimentation.  This game should not replace the real laboratory work necessary to learn the nuances of chemistry, but it will get you more excited about the sciences you are learning. 
Pokémon®, Magic the Gathering®, and Yu-Gi-Oh!® are registered trademarks of The Pokémon Company/Nintendo,  Wizards of the Coast/Hasbro, and Konami respectively.