If you wish to purchase in bulk (quantities of 10 or more) please contact 
sales@diversioncirclegames.com 
for pricing.
Elements, Chemicals, and Energies are real - master them! Learn, Play, Strategize, Collect, Trade, Battle, and Win!
Booster Pack
$6.99
12 Collectible Cards including rare cards! with these MolecuWars cards, you can enhance you atomic battle strategy. Collect all 136 original cards.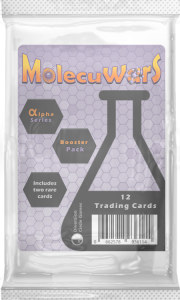 $6.99
+$2.99 $1 Shipping (US)!
Collector Deck
$47.99
 90 unique cards - combine with starter deck to complete 135 of 136 cards in the alpha series.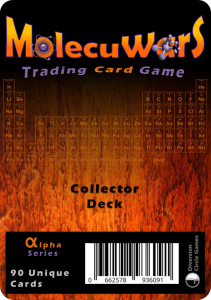 $47.99 
+$4.99 $1 Shipping (US)!
Atomicals™ Poster    Periodic Table of Atomicals poster 
$4- free with any purchase of $50 or more!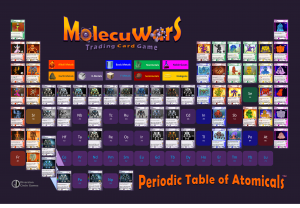 17"x11.25" glossy poster of Atomicals in the alpha series arranged in the periodic table of the Elements